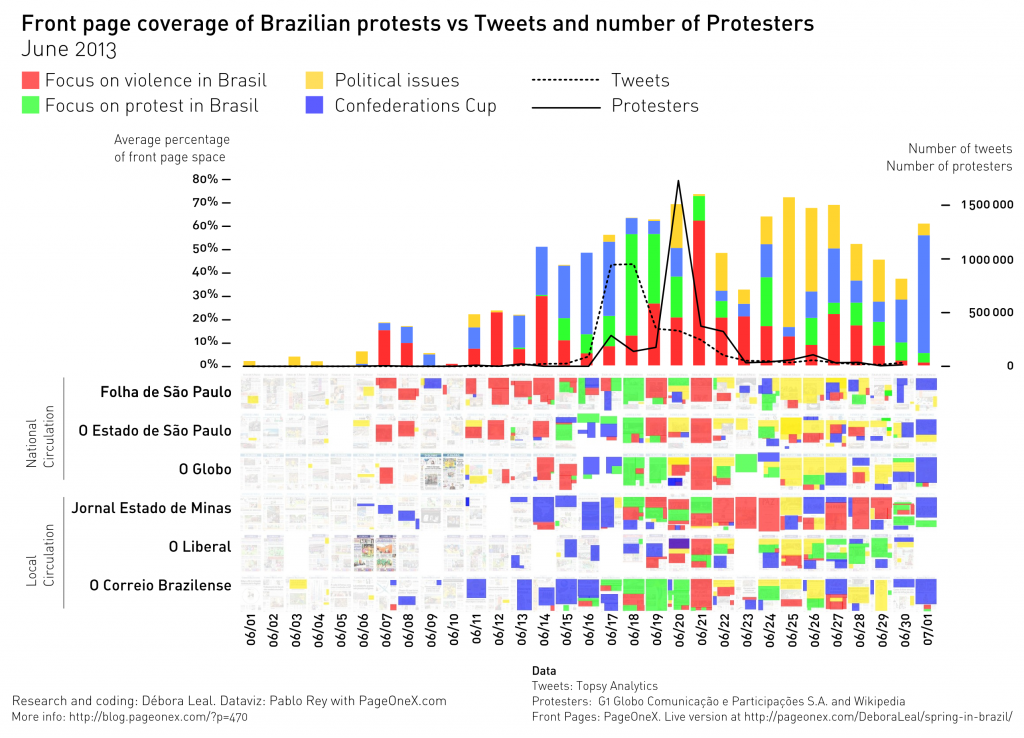 Em 2012, começou a circular na internet uma imagem comparando como a mídia brasileira abordava uma manifestação no Brasil e outra na França. Os exemplos usados na imagem eram de notícias veiculadas em 2009: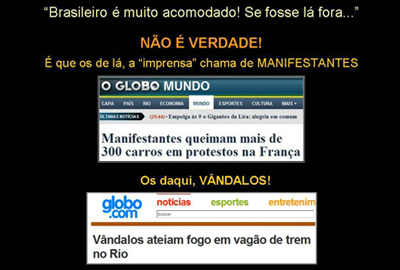 No meio de tantos protestos no Brasil em junho de 2013, surge a dúvida de como esse tema foi abordado nas capas de jornais tradicionais. Estariam os jornais chamando essas pessoas de manifestantes, ou de vândalos?
Antes de responder a essa questão, vale a pena rever o que aconteceu no país em junho. Contra o aumento de 20 centavos no transporte público, manifestações ocorreram no início do ano em diversas cidades do Brasil, porém com pouca visibilidade na grande mídia.
Em São Paulo, através de uma mobilização organizada pelo Movimento Passe Livre os protestos nos dias 06, 07, 11 e 13 de junho contaram com 2.000, 5.000, 10.000 e 10.000 manifestantes respectivamente. Imagens e vídeos dessa última passeata foram massivamente divulgados pela internet, mostrando excessiva violência policial contra jornalistas, manifestantes e quaisquer pessoas que estivessem sob a mira deles. Isso foi o estopim para o surgimento de manifestações em outras cidades e para o aumento do apoio dos cidadãos aos protestos. Ao todo foram mais de 600 protestos no Brasil, onde os manifestantes citaram mais de 20 razões para estar nas ruas, segundo pesquisa do IBOPE.
A partir da ênfase que a grande mídia nacional deu a esses acontecimentos foi feita uma pesquisa, que consistiu na leitura e mapeamento da primeira capa de 6 jornais tradicionais. 3 de circulação nacional – O Estadão, A Folha de São Paulo e O Globo, e 3 jornais menores com distribuição local – Jornal Estado de Minas, O Liberal e O Correio Braziliense. 4 categorias foram criadas para classificar o foco de cada uma das matérias:
a) Violência (vermelho)
b) Protesto (verde)
c) Copa das Confederações (azul)
d) Ações Políticas de maior interesse do cidadão (amarelo)
(para uma descrição mais detalhada dos critérios que definem cada uma das categorias, veja o final do texto)
A partir dessa classificação, um gráfico foi gerado mostrando o assunto enfatizado pelas capas (estavam falando das manifestações ou não) e o tom (estavam enfatizando a violência ou não). Copa das Confederações foi incluída como categoria, pois ocorreu entre os dias 15 e 30 de junho, justamente no período de grande mobilização brasileira.
O gráfico revela ao menos 5 pontos interessantes:
1) Até o dia 13 de junho, o relato dos protestos focava na violência (vermelho) e no embate entre manifestantes e polícia. Note que a partir do dia 14 (dia seguinte ao protesto onde jornalistas foram feridos e presos em São Paulo), a mídia abre espaço para uma cobertura mais ampla (englobando as razões que motivavam os protestos) e sem focar somente na violência.
2) No segundo dia após a grande marcha do dia 20 de junho, onde mais de 1milhão e 700 mil pessoas marcharam por todo Brasil, surge uma mudança relevante nas matérias de primeira capa. A partir do dia 22 os jornais focam na discussão de reformas políticas (amarelo), trazendo temas cobrados nos protestos.
3) A abordagem das matérias com foco no protesto (e não na violência) aumenta a partir do dia de maior tweets em 17 de agosto. Logo após esse pico, há um decrescimento nos tweets que coincide com o crescimento do foco na violência nas capas. As hashtags estão listadas nesse documento.
4) O dia de maior manifestantes na rua não é o de maior tweets.
5) Por fim, há duas observações que não são possíveis visualizar através do gráfico gerado.
Primeiro, os jornais divulgaram nas primeiras páginas pesquisas sobre hábitos e vícios de jovens e estudantes. No dia 24 de junho, em um protesto próximo ao complexo da Maré (Rio de Janeiro), um grupo não identificado realizou roubos na área da manifestação. A polícia realizou uma busca aos assaltantes, onde 1 sargento e 9 pessoas foram mortas dentro da comunidade (3 não tinham antecedentes criminais). No dia seguinte, nenhuma capa relatou o ocorrido. Apenas dois dias depois, apareceu uma foto com o corpo de um dos mortos na capa de O Estado de São Paulo. O Globo, que é a mídia do Rio de Janeiro, não mencionou essas mortes na primeira capa em nenhum dia do mês.
E segundo, um episódio relevante de violência policial após um protesto foi ignorado pelos jornais analisados. Entre os dias 18 e 24 de junho nas capas dos jornais O Globo, Correio Braziliense, O Estado de São Paulo e o Estado de Minas, há chamadas para matérias informando que, entre estudantes e adolescentes:
houve crescimento no uso de drogas,
76% já ingeriram álcool,
se trata de uma geração sem ocupação (sem emprego, estudo ou atividade),
há uma nova droga usada na balada.
Segundo o levantamento, as primeiras capas de meses anteriores nunca tinham dado destaque para tais pesquisas.
Esses são apenas alguns dos muitos pontos que podem ser analisados a partir do gráfico acima. A conclusão é que a mídia brasileira têm oscilado na ênfase que dá aos protestos, sem nunca deixar de guardar o devido espaço para falar do futebol.
P.S. Esse é apenas o primeiro texto de um projeto maior de análise de dados.
O próximo passo é comparar a abordagem da mídia tradicional com a mídia social.
Entre em contato.
Critérios
Critérios utilizados para as categorías criadas:
a) Violência (vermelho):
imagens com carros ou ônibus ou objetos pegando fogo
imagens de policiais fazendo barreira, atirando ou jogando spray de pimenta
descrição da matéria com uso das palavras: vândalo, depredação, medo, quebra-quebra, quebradeira, violência, saque, criminoso
descrição da matéria com apoio à ação violenta da polícia
matéria abordando o medo de participação aos protestos
b) Protesto (verde):
foto da passeata
explicação sobre a motivação do protesto
c) Copa das Confederações (azul):
fotos ou texto sobre os jogos da Copa das Cofederações
d) Ações Políticas (amarelo):
Transporte público
Fim do Voto Secreto
Reforma Política
PEC 37
Saída do Renan Calheiros
Gasto na Copa
Corrupção como crime hediondo
Fim do Foro privilegiado
PEC 33
Médicos Cubanos no Brasil
Falta de Credibilidade de partidos políticos
Educação
Gasto público
Data
Tweets:
Topsy Analytics
Protesters:
G1 Globo Comunicação e Participações S.A.
and Wikipedia – https://pt.wikipedia.org/wiki/Cidades_participantes_dos_protestos_no_Brasil_em_2013
Front Pages:
PageOneX. Live version at http://pageonex.com/DeboraLeal/spring-in-brazil/
Dataviz: Pablo Rey Mazón.
Helped with the text: Carolina Brum, Fernanda Cimini, Julia Mussio, Mariana Prado, RoseMarie Mallon and Ruy de Deus.